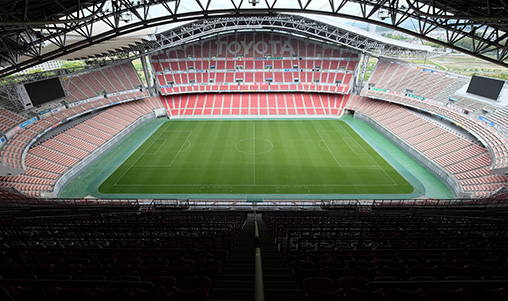 STADIUM PITCH

Location
7-2 Sengoku-Cho Toyota City
Telephone Number
+81 5 6587-5200
Fax Number
+81 5 6587-5201
Opening Hours
9:00-21:00
E-mail
–
Regular Holiday
Undetermined
Website
https://www.toyota-stadium.co.jp/


Venue Size and/
or Capacity

•115m x 78m natural grass ground
•Seating capacity: 44,380 maximum,
including 264 VIP seats, 560 media seats, 228 wheelchair spaces.
•Super room (21-28m2) 28 rooms.
•Special visitor's room#1 (29m2).
•Special visitor's room#2 (29m2).

Warming Up Area
(if possible)
Warming up room (320m2).
Warming up room (320m2).
Authorized Persons Area
(Athletes/Officials)
Event administration rooms #1 (77m2), #2 (149m2), #3 (56m2), #4(157m2), #5 (88m2), #6 (70m2).
Locker room #1 (80m2), #2 (78m2), #3 (78m2), #4 (80m2).
Referees' changing room (85 m²).
Manager/Coach's room #1 (47m2) #2 (35m2).
Media/Press room (282m2).
VIP room (93m2)
Changing rooms/
Shower rooms
•Changing/shower room: 2 places (each 101m2).
•Disabled person's changing/shower room: 2 places 19m2..
Toilet Facilities
1st-4th floor concourses;
Men's toilets: 36 places
Women's toilets: 39 places
Multi-purpose toilets: 15 places
Other Facilities
Main and back stand fixed roof, big screen 2, pool.
Parking
586 spaces including an undetermined number of disabled parking spaces. Within 3 hours free, after 150 yen/30 minutes.
188 spaces (officials, staff and VIPs).
Dining facilities
Verderoso: 100 seats.
GRANDSTAND
SPECIAL VISITOR'S ROOM
WARM-UP AREA
LOCKER ROOM
TOILET
CHANGING/
SHOWER ROOM
RESTAURANT
VIP ROOM
EVENT ADMINISTRATION
ROOM
OPERATIONS ROOM

By Public Transportation

*From Nagoya Station

Nagoya Subway Sakudori Line → Tsurumai Line → Meitetsu Line [Toyota City Station] 60 minutes, then 15 minutes on foot.

*From Nagoya Airport

To Nagoya Station by limousine bus, 20 minutes. → Nagoya Subway Sakudori Line → Tsurumai Line → Meitetsu Line [Toyota City Station] 60 minutes, then 15 minutes on foot.

*From Chubu International Airport

Meitetsu Line → [Toyota City Station] 90 minutes, then 15 minutes on foot.

By Car
Tomei Highway [Toyota IC] about 15 minutes

Event Name
Sport
Date Held
Number of Visitors
LipovitanD Challenge Cup
Rugby
June 2016
June 2018
July 2022
–
Kirin Challenge Cup
Soccer
November 2018
June 2019
–
FIFA World Club Cup
Soccer
December 2012
–
J-League
Soccer
Year round
–
Japan Rugby Top League
Rugby
Year round
–